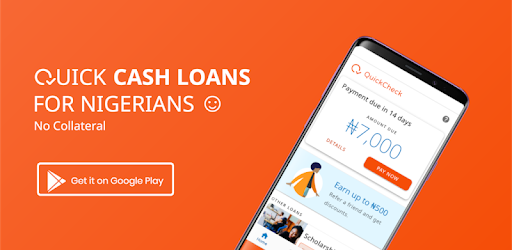 If you are an entrepreneur pressed for cash, try QuickCheck
The QuickCheck app provides a hassle-free, quick, no collateral, financing for SMEs who want to take advantage of fast business opportunities anytime, anywhere in Nigeria. The app offers up to N200, 000 at first application. For retailers, or basically anyone engaged in trading, this is a boost as the nation seeks to deepen entrepreneurs access to funding, to fast-track the new drive for enterprise and innovation.
The app was built to cater to passionate and driven Nigerians who in the past have been held back by lack of quality support to bring their dreams and visions of creating and selling products and services, on a profitable scale, to fruition. That lack of support, especially in areas of financing, has crippled many bright ideas. In other words, it has pushed many young people to seeking alternative paths for survival, which apparently is causing a logjam in the labour market. 
Speaking about the level of acceptance already generated by the QuickCheck app, the CEO, Fabiano Di Tomaso, said, "Currently, we are experiencing exponential organic growth and are closing a couple of strategic partnerships to get even closer to our customers, by integrating our technology and credit offering where they need it, within those channels they are already accustomed to".
Since almost 70% of Nigeria mobile phone users now have access to smartphones, it is easier for anyone in need of quick cash for business transaction to reach QuickCheck or related platforms.
Here are the procedures:
1. GoDownload the QuickCheck loan app for free
2. Sign up and create an account
3. Apply for a loan
4. The QuickCheck app will instantly rate your credit-worthiness through interconnected platforms using its own algorithm. (But remember no collateral is needed, this process is just to be certain you will be able to pay up).5. Finally, if you are eligible, the cash loan will be disbursed to your account within minutes. 

Meanwhile other platforms that offer the same service include PalmCredit, Carbon, CreditDirect and more. Go to your app store and search for any of these apps. Your dreams deserve quality assistance.