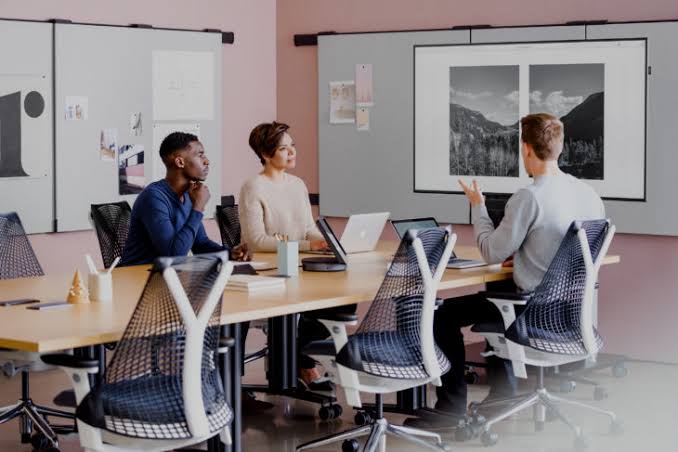 WORK TOOLS: what you should know about Slack and Monday.com
Slack has a very to-the-point tagline that is, in my humble opinion, one of the most descriptive yet simplistic ones. That tagline is "Where work happens." I don't think we'd be able to find a set of words that would describe this fantastic tool any better.
Slack is where we organize/do most of our team management and discussions. It's a team collaboration tool, I like to call it a more professional messenger for teams because it's quick, free of distractions and full of cool features.
How to Use Slack
One of the best things about Slack is that every project can have its separate workspace. This is helpful for a couple of reasons:
Teams that aren't directly involved in a specific project won't be distracted by the discussions and notifications coming from another workspace
Every project gets a dedicated workspace, meaning that all relevant documents, discussions, comments, and files regarding those projects will be there to navigate through, find, and move around easily
You can invite and remove team members from that workspace at any moment
You can easily navigate and switch between any Slack workspace, channels, chats if needed using hotkeys like ctrl+K. This is mainly a great option for multiple projects that are active at the same time. Teams won't get confused, mixed, or distracted and conversations will be kept strictly about that particular project.
Other than a project-specific workspace, you can have general channels for team announcements, discussions, threads, book recommendations (why not, you know), etc. You can search for channels created by others and join them too if they are public. If your created channel is private, only people you invited will be able to see it.
Slack has a desktop (and mobile) app, which always pings you if there are messages in your group chats or private chat rooms. The desktop app is especially great because that means one less tab in your browser and one less distraction while working.
A lot of people use different website blockers to help with concentration and eliminating distracting social media websites.
Slack desktop app (Windows | Mac) partially solves this because if you need to send a quick message to your co-worker, you still get to do that. But because it's a professional tool for teamwork online, you don't get carried away with socializing.
But like everything, Slack isn't perfect for everyone either. Here's the tricky part with Slack that had our management team a bit skeptical at first, but proved to be a minor obstacle that we overcame.
Slack workspace always has a lot going on. The bigger your team, the more channels you have. The more channels you have, the more messages get sent through them. The more messages you get, the more you tend to check them and the less you seem to work.
Yes, this might be a problem at the beginning if your team can't differentiate between work-related conversations and everyday chit-chatting. But to be honest, we have cut down these minor distractions, bringing them to a minimum by identifying work priorities.
Slack is now strictly for work.
But if occasionally you want to chat for a short few messages back and forth with a team member, we'd rather have it done on Slack than Facebook or other instant messaging platforms. Always.
Last but definitely not least, Slack has multiple bots and integrations that are perfect for effective and quick team collaboration.
Say you created a bot to remind your team members to do mini standup updates in your workspace. The bot will ping everyone to give a status update on their progress, and the cool part is that the bot has a personality. You can give it a name, tag, or mention it.
That way, it feels like you have a personal assistant responsible for a certain task to remind your teams about, in this case, daily updates.
Another important feature of Slack is the ability to make calls. Truthfully, this isn't as frequently used within our team, unless we're too lazy to walk around the office or grab our phones for a call, but the fact that the option exists is pretty helpful and may come in handy for other teams.
As you can see there are a lot of advantages of different type of companies can benefit from. For example, Slack is one of the main tools in this design and development agency, find out why.
And while our focus here today is on Slack's use for team collaboration and internal communications, we shouldn't overlook the opportunities it presents for external communications as well.
Slack communities are public workspaces that can be created or joined as a means of networking with others in your industry. Join them to engage with other like-minded folks – get feedback on new business ideas, promote your recent work, source new talent, and more. The best communities have very active and engaged members and can prove to be quite rewarding.
There are tons of ways you can utilize Slack's best assets. These were only the tip of the iceberg that works magically well for our team.
What is Monday.com?
Phew, where do I even begin with Monday.com? We're a leading crowdfunding agency meaning that we work on different campaigns simultaneously, involving a lot of teams, departments, and members.
Organizing such a big volume of work through a spreadsheet or any other tool we've used before, was almost impossible and definitely frustrating.
So the day our CEO, Narek, found Monday.com and brought it onto the table for a discussion, it took us literally a few minutes to decide that this was the tool we would settle for.
We've gone through so many task management tools that we almost gave up. And going back to Trello was simply not an option because with the team growing and projects getting bigger, we needed more functions, more flexibility, more… just more Monday.com
It was fairly easy to make the transition to Monday.com because everyone was just way too excited about it. The interface, the way you get to organize work processes, assign tasks to team members, track progress – it's just addicting.
And that's what you need when working on multiple projects. You need to get addicted to delivering good results. And when it's all visible like it is with Monday.com, there's nothing better we could ask from a team management software.
How to Use Monday.com for Maximum Efficiency
The coolest part about Monday project management tool is how straightforward it is for organizing, monitoring, planning, and working with it.
Here's what Albert, the biggest advocate of Monday.com at TCF, says about its effectiveness for team collaboration:
"What's so good about Monday.com? Everything is customizable and editable – that has to be my favorite part about Monday. It gives you the flexibility to set your own rules for your projects, which means you get to set up the logical flow of your projects and how to best plan them.
Before you use any team collaboration tool, it's important to remember that you need to have simple internal rules within your team regarding the use of that particular software, otherwise it won't work. Here are a few examples:
All fields need to be filled by the creator; we have Description, Creator log, Assignee, Timeline, Status, and Priority
Assignees can change the status and task creators can close the task or reassign it to someone else afterward
Task descriptions should be as simple and explanatory as possible
TIP: use "SMART" formula when creating a task (Specific, Measurable, Achievable, Relevant, Time-bound)
Everyone should be on top of the boards of their departments, that means all participants should take responsibility and update their tasks at all times.
The way my team and I have organized everything on Monday.com is as follows: we've created boards for each department. Let's say we're running 3 campaigns at the same time, in that case, we're creating a group in the board for each campaign.
This means that each department will have 3 groups on each board. To be more specific, we have a Social Media Marketing department board and in there we have 3 groups – Project 1, Project 2 and Project 3.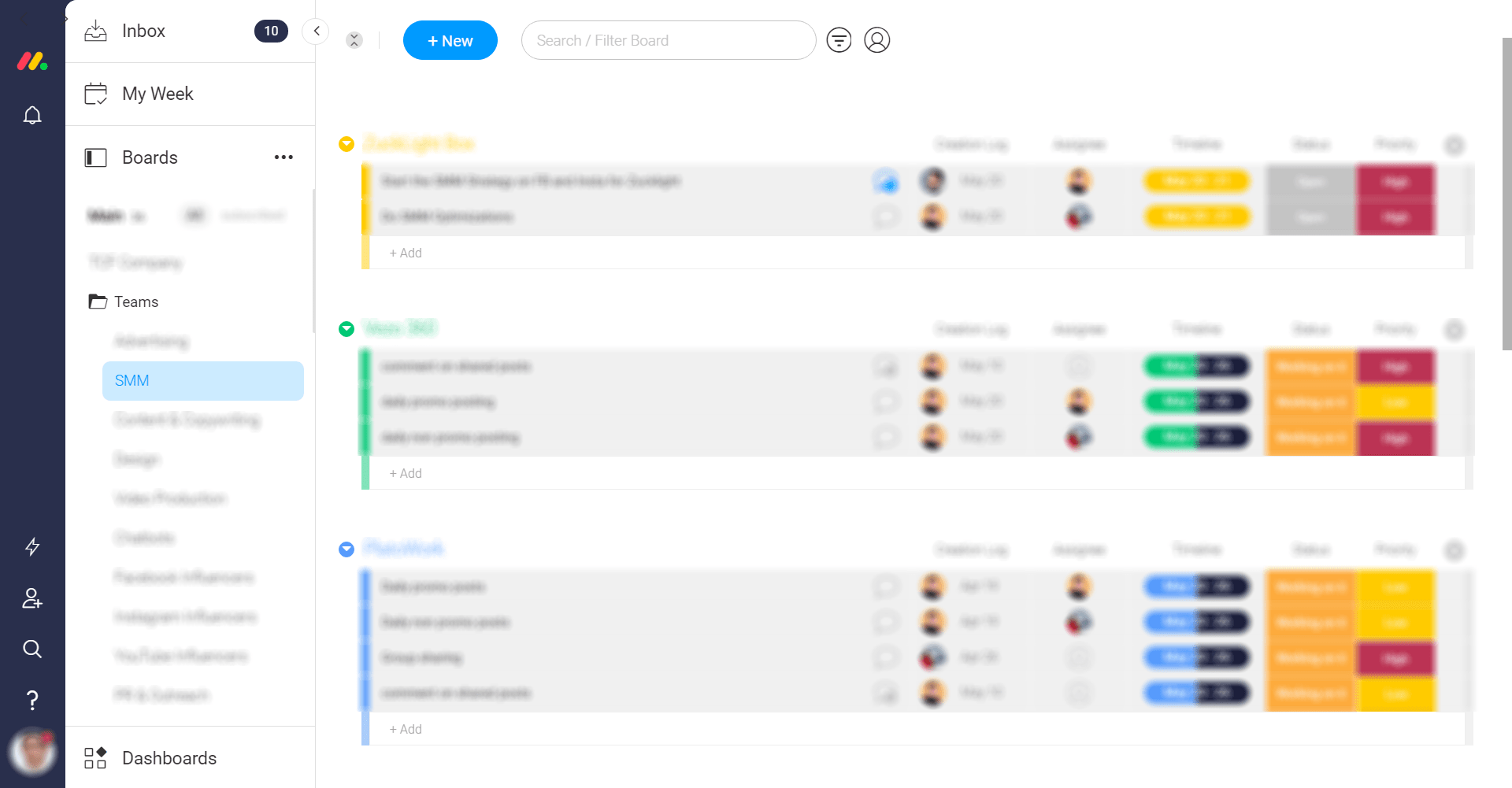 In each group, PMs or department heads create tasks for members.
Apart from the obvious benefit of increasing team efficiency, using the perfect task management and team collaboration tool gives project managers the ability to keep everything organized.
It helps us see the bigger picture and be flexible with details when needed. For team members, it's a powerful self-management and time-management tool that helps with keeping every task and action on the track and get back to it when needed."
But we aren't the only ones that love this tool. As Nate Travers from Rendered pointed out in one of the interviews for Monday.com, finally clicking it all to green, marking all your tasks as done, is probably one of the most gratifying moments of the day.
This definitely seemed to be the case with our team as well.
Culled from thecrowfundingformula.com