When Teddy Kossoko who hails originally from the Central African Republic enrolled in Blagnac IUT, France, in 2012, he realized that gaming was fast growing in popularity. He also gained an exciting insight that would launch his entrepreneurial career. According to Teddy, he discovered that video gaming is a powerful tool for spreading and driving culture.
He put it simply, "I realized that people play a lot of video games. They lose themselves in a universe and emerge with knowledge of cultures. I saw that video games had that power, and I decided that I was going to use the power of African cultures to bring Africa – with all its cultural and historical riches – to the world. Alongside my studies, I started to develop my first game…."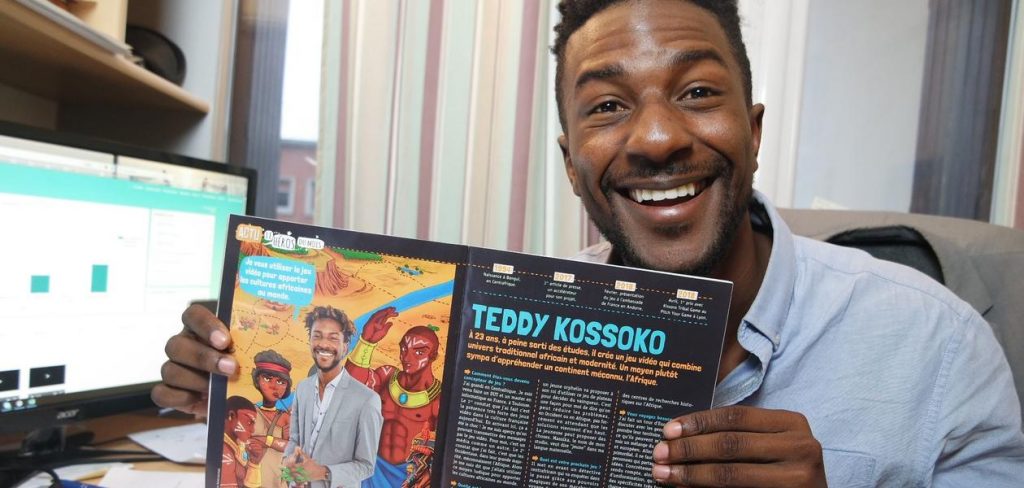 Instead of waiting till he would graduate from the school in Toulouse, Teddy began to put the IT skills he had acquired to develop a video game that would tell the African story as well as drive wider respect for the culture and history of the people on the continent. Leveraging Kissoro, a board game that is popular in his native Central African Republic, he developed the Kissoro Tribal Game. The Kissoko Tribal Game is themed around conflicts that ensue between African kingdoms for the control of vital mineral resources.
Teddy also created Golden Georges, a game that is centred on the football career of George Weah who is currently the President of Liberia.
To bring his gaming ideas to life, the highly gifted Teddy started working with the National Center for Scientific Research (CNRS) in France as a strategy to learn about a variety of interesting historical plots that would provide the rich cultural flavour the gaming products need to stay competitive. He would also rely heavily on the skills of developers on the African continent.
Teddy wound up creating the Masseka Game Studio in France. The Kissoko Tribal Game won him the 'Pitch Your Game' of the Geek Touch award in Lyon in 2017. Maseka Game studio gaming products are also being patronized across 18 markets globally.
The young entrepreneur was named among Forbes 30 Under 30 on the African continent in 2018.
Recounting his inspiring early pivot to entrepreneurship, Teddy, who had wanted to study medicine said, "I didn't see myself spending eight years studying before working".
He added, "I wanted to start creating and changing the world, so I shifted to computer science."
Considering the global economic crunch and rise in the local unemployment rates, encouraging young people on the African continent to resort to creating a business out of the skills or talent acquired is key to driving productivity across.
Daniel Scott Mitchel, a strong believer in student entrepreneurship wrote, "Though 90 per cent of startups fail, student entrepreneurs can still walk away with 100 per cent of their experiences and mindset. I believe that the most valuable asset of being an entrepreneur is the outlook that comes along with it. Opening a business provides students with a propensity to recover quickly from failure, hunger for innovation and ambition to strive for lofty goals. These qualities are indispensable in this world and will make student entrepreneurs a valuable asset to their future employers and the world around them."
School life offers a valuable window to put the skills a student is currently acquiring to a quick test. For the fortunate ones who catch on to the trend early, student entrepreneurship also provides the platform to acquire skills such as:
The ability to communicate a product idea strongly
Strong proficiency in management, risk mitigation and interpersonal relationship
Becoming a successful entrepreneur takes time. It pays when the journey starts early in school as in the case of Teddy Kossoko.