Tech Specialist, an academy devoted to nurturing IT talents, is collaborating with the industrial Trust Fund (ITF) and the Nigeria Employers Consultative Association (NECA) to help young people acquire top skills in the areas of software engineering and impact driven innovations. The project tagged TIIDElab is a 6-month intensive training that will serve as crucible for moulding young innovators.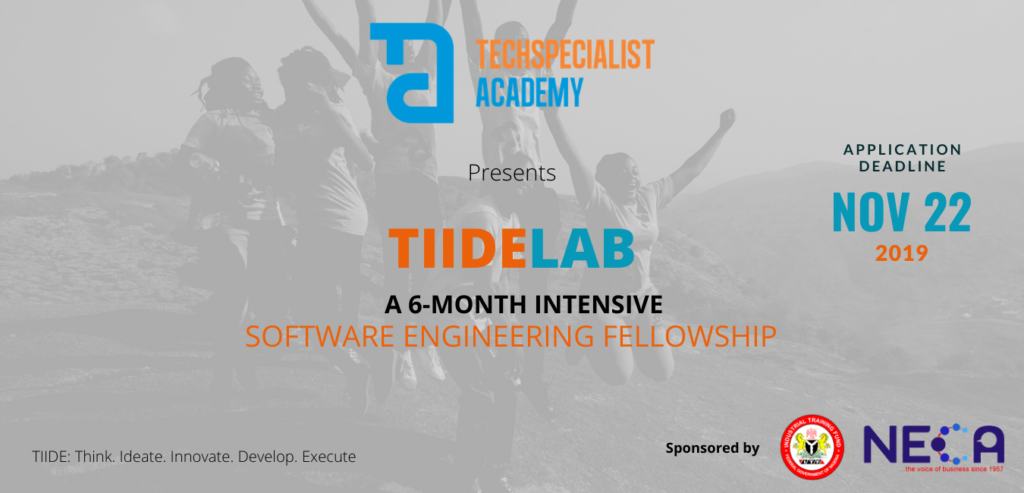 The training itself is immersive and involves hands-on skills acquisition methodologies proven to deliver well equipped IT geniuses.
Candidates stand a chance of receiving support to start own IT business, or go for internship at top firms, after successfully completing the 6-month program.
However, interested candidates have to be aged below 30; they must also be resident in Abuja, at least for the duration of the fellowship. In addition, each candidate must have passed through a tertiary institution. and have basic knowledge of computing. To apply click https://www.techspecialistacademy.com/tiidelab/ .
The future of work is digital. Cloud computing, Fintech, e-commerce, artificial intelligence, robotics and more will dictate the pace of the world economy going forward.
Preparing Nigerian young people for that future will ensure there will be no skill gap between the workforce trained locally and those groomed elsewhere. At best it will ensure the economy is competitive enough to tap new opportunities within emerging market forces that will dictate global dominance. An example is several young people coming out of America's Silicon Valley in the early 20s to put the US ahead of Russia and China,