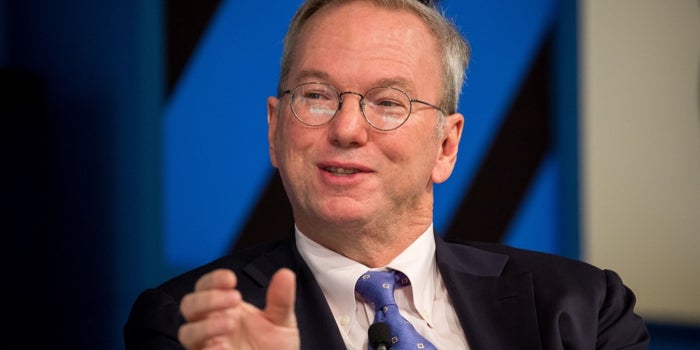 Disruption: 'Once you fall behind it's hard to catch up', Eric Schmidt, former Alphabet chief executive warns business
Revered ex Chief Executive Office of Google's parent company, Alphabet, Eric Schmidt, has warned business leaders to increase the pace of innovation, else they lose out to disruption by nimble entrants. The experienced silicon valley executive gave the admonition at the McKinsey's BLINK Conference held in the UK, recently.
Almost every industry is on the move. Transformation is creeping in weekly to change how services and products are being produced and used. This is changing consumer perception as well as improving market taste and desire. From how money is moved, to how people consume movies; where and how they purchase groceries to the types of food they eat and clothes they wear, and the form of energy deployed to aid machines, everything is getting disrupted.
The danger is whichever company slips behind may never have the chance to keep up with the pace in the market anymore. This forms the bases of Schmidt's admonition for business leaders who he asked to maintain a deep and broader vision of their industries.
Speaking at the conference, in UK, he said, "Disruption is not going to slow down".
"If you entered a market last week, you have disproportionally greater economic gains than if you entered this week. One of the rules in my world is that it's hard to catch up, and even harder to get ahead, once you fall behind. Time and again today, we see industries that were relatively static that are now drastically changed by digitization and the reimagining of their products", he added.
The former Alphabet Chief Executive advised businesses to leverage software platforms and engage with customers online to improve services and product experience.
He said that people are key to meeting new innovation targets. He encouraged organisations to harness the talent of their staff by providing them coaching and facility that will improve their mind and help to come up new product insights and designs.
Saying the power of young people to transform the world cannot be underestimated, Schmidt mentioned that presently among every 10 people globally, 4 are below 25 years old.
He enthused that the extraordinary energy level of the young generation will not allow industries to remain the same. When provided with right tools plus business guidance they will make changes happen across industries, thereby unraveling new possibilities across every market.