TERAWORK is an enabler for SMEs in terms of raising business productivity level while keeping cost at a rate that would help the users scale and survive the tough operating environment, especially in this period of global economic uncertainties. Titi Taiwo, the Chief Operation Officer, TERAWORK opens up on how the enabling platform adds value to the local and global SME ecosystem and businesses in general.
Q. TERAWORK, as a platform, has been growing stronger considering your recent recognition by Forbes and NiTA. What is the secret behind this success story?
The secret behind the success story of TERAWORK can be summed up in four keywords. And it is simply, "TERAWORK makes business work". The relevance of TERAWORK in terms of pooling top talents in one place for businesses to access 24/7 on-demand, cuts across all sectors and countries. Name it: from freelance web designers, accountants, software engineers, graphic designer, legal advisers or solicitors to freelancer writers, cake makers, event planners, public relations expert, human resource manager, and what have you. This talent-base comprises freelancers who reside in Africa, Europe, the US, Canada, the Oceania and Asia. Therefore, our platform provides a cost-effective human resource solution that enables businesses, especially SMEs, to deliver top-quality projects or products on a shoestring budget without the constraints attached to hiring the best brains in any industry.
And this works especially for African SMEs. You see, building a business in Africa is tough. The failure rate is alarming – no thanks to an austere operating environment where SMEs have to operate on a shoestring budget which leaves them vulnerable and less competitive in terms of output quality. TERAWORK is gradually changing the narrative though. Smart small business owners or entrepreneurs can access an extensive pool of global talents on-demand without having to pay those bogus benefits that are attached to hiring these top professional skilled people, on full-time basis.
Q. Since you said 'TERAWORK makes business work'. How did you come about founding TERAWORK?
When my husband, who is presently the CEO, of TERAWORK, was trying to get some project off the ground as a young man a few years ago, he searched and could not find someone who would execute the task to prescription. Of course, he believed he didn't have to start looking for an HR firm to start asking people to submit application letters and line up for interviews because he needed to hire a single professional to execute a task for him. The logistics involved and time that would be lost to that process put him off. However, he conducted a scanty search and got someone who ended up messing up the project. Well, that hiring error might have been prevented if he had conducted a thorough search or had access to a platform that scrutinizes and pools skilled people of all kinds together and make them available to people like him on-demand without those extra logistic costs and statutory benefits.
He is not the only one who has had to face that challenge. Most people have complained about the same hiring error or lack of fund to hire those top performers that you would like to have on your project team, and even make them work for your business.
So he joined the online marketplace to offer a sound solution to the talent accessibility and affordability challenge.
"You see, building a business in Africa is tough. The failure rate is alarming – no thanks to an austere operating environment where SMEs have to operate on a shoestring budget which leaves them vulnerable and less competitive in terms of output quality. TERAWORK is gradually changing the narrative though. Smart small business owners or entrepreneurs can access an extensive pool of global talents on-demand without having to pay those bogus benefits that are attached to hiring these top professional skilled people, on full-time basis".

Titi Taiwo, COO, TERAWORK
Q. When was that?
A. It all started in the year 2017. My husband, being a tech enthusiast and professional, began to put the things that he'd practiced offline into building TERAWORK so that SMEs and all entrepreneurs can access top talents to deliver top-quality jobs at a good cost. Also, he had this deep motivation to provide a platform where tech enthusiasts and professionals of all kinds who are operating side hustle business can sell their skills and make good incomes – and that is the point; right now on TERAWORK if you have a small size business you can hire an accountant or legal adviser who is working for one of the top firms in Nigeria to run your bookkeeping or hire a web designer in the UK who works for the big tech agencies overseas to help you do some work.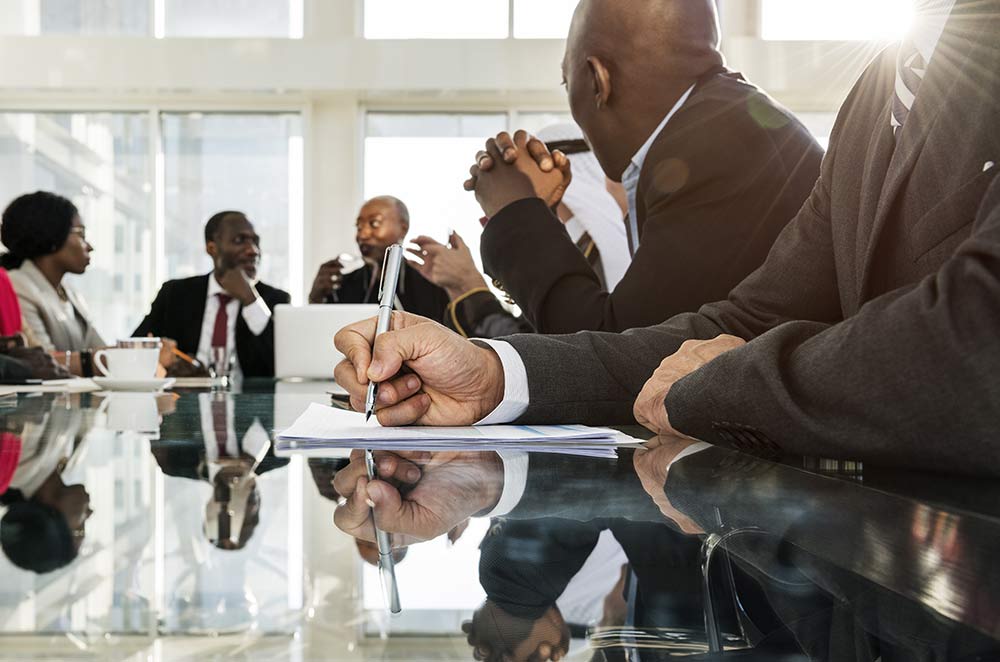 Back to how he started. He started initially with two co-founders. Myself, Titi Ogusnsina-Taiwo who is today serving as the Chief Operating Officer (COO) and Abimbola Sarumi who serves presently as the Director of Engineering. Together we built TERAWORK from the ground up.
However, we have had to rely on a lot of feedback from users to keep refining our procedures and processes over the course of these nearly four years of operation. We have benefitted immensely from this approach in the sense we gained insight that has helped us we put in place thorough vetting processes to ensure the credibility of every freelancer on our platforms. The fact is, many platforms that share the same operating model with TERAWORK have either failed or are struggling because they haven't been able to overcome such hurdles. They also suffer due to poor funding, user distrust as a result of a bad experience, worries about data privacy and frequent payment issues on the seller and user sides.
But we have put in place digital tools that ensure we don't struggle. Beyond vetting the sellers of services, we ensure that businesses are also protected such that only completed jobs are paid for – and everything from hiring to delivery and payment happens on our platform.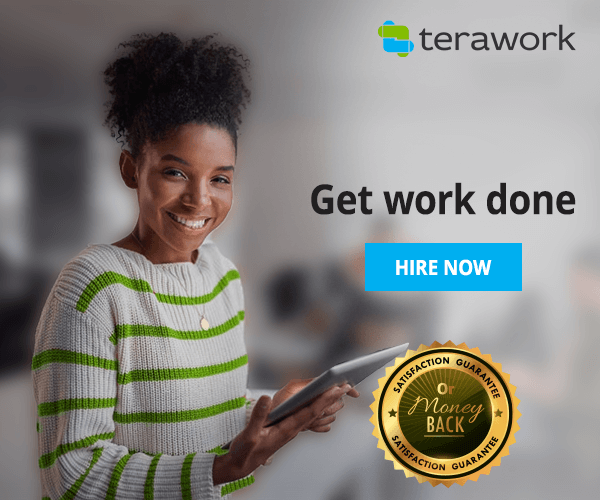 We protect the freelancers too from losses. Our platform helps freelancers accept payment in all kinds of currencies and help sellers make payment in all of the top currencies.
In sum, as a freelancer, you get paid for jobs delivered to prescription. As a business, you pay for work delivered under the terms. And we have near-zero default rates in all task engagements carried out on our platform.
TERAWORK is built in-house. Today, we have been able to grow our team to expand our operations. We put together a team of talented and passionate people. We have developers, digital marketers, and persons in growth and sales operations. This format creates efficiency across our value chain.
Q. Back to your vetting processes. Can you shed more light on that area since potential users would be more concerned about getting value for using the platform?
Similar to what you find on the likes of Fiverr and Upwork, we allow talents to sign up for free. They are asked to open an account and create a profile that specifies their areas of specialization. Our in-house team would them apply our in-house digital tools to carry out a thorough vetting (or research on) of the account owners before their profiles are made public. If the account passes the checks or vetting processes they can give or receive jobs.
Meanwhile, verified users that we onboard as sellers usually have a homepage which is equivalent to a personal website. This homepage serves as a portfolio for them. The on-boarding process sometimes can take between 1 day to a full week based on the minimum requirements that each user is expected to meet.
More, users can switch between sellers of skilled servicers or buyers of skilled services since they are all businesses that willing to make money by providing valuable service exchanges.
Q. Precisely, how does this whole process of selling and buying of services work?
A buyer, take for instance an SME, places an ad for a particular it wants to execute. The job is screened and published on our platform for sellers (freelancers) to bid for by sending quotes. The client chooses which seller it would love to work with and the parties reach an agreement on our platform. Payment is 'escrowed' in TERAWORK's account until the client gives a job completion confirmation. Following the deduction of its commission, TERAWORK sends the funds to the freelancer's wallet.
Our seller base is diverse. It is common to find online freelance platforms that focus on digital products, but TERAWORK also encourages professionals in fashion, fitness, events, confectionery, design, and artwork, among others.
This is because we want our sellers to deliver services not as services per se but as an experience. We have cases where Nigerians in the diasporas buy customised cakes and customised throw pillows and similar products from sellers on our platform for their loved ones in Nigeria. Companies in Lagos too buy branded gift items, souvenirs and have them delivered to their customers in other parts of Nigeria — Abuja, PH and other cities — all these without worrying about delivery logistics. They simply picked sellers based in those locations they would love to deliver these products to.
Q. What does your commission percentage look like?
Depending on the type and volume of work done, TERAWORK charges talents (or sellers) between 7% and 13% commission. We believe it is reasonable compared to the average of 15% common in the freelance marketplace.
Although most of our services and commission are still in the pilot phase, we have received an encouraging reception.
Q. Competitors often categorize their service offerings. How many categories can users register for?
TERAWORK is a one-stop online freelance marketplace where anyone, especially business owners, can hire freelance professionals or agencies offering varieties of professional services on-demand as needs arise to handle their tasks, projects, and outsourcing needs extending to weeks or months to grow their businesses and create economic values. Overall, users can register under one or more of 56 services in 9 categories. This is deliberate because we want to position our platform as a one-stop platform for professional services.
We have had to handle multiple requests at our backend. However, with the quality of staff members that we have in-house the number of requests we have had to deal with does not affect the quality of jobs delivered. This is basically down to the way our platform is structured.
We have a robust customer service unit that is built to be independent. At that level, we make sure that there is no friction in the seller-buyer interaction. Also, we have built a real-time chat feature on the platform. The feature enables freelancers to communicate on client homepage.
Q. How do you optimize the seller-buyer interaction to filter extra-platform activities?
Conversations on our platforms are AI-filtered. Chats that include sharing contact details, social media handles, and inappropriate words are flagged. Appropriate sanctions have been put in place to deter further errors and to ensure buyer-seller interaction is optimized. This process also prevents transactions from being done outside the platform.
As I mentioned earlier, we have arrived at the this filtered phase because we have had to rely on feedback and by taking key learning from unpleasant past experiences such wrangling around commission per cent, payment processes, relationship with other users, and related conflicts.
Q. What are your survival tactics and plans as you head into the future?
We have an angel investment, not so much but something enough to keep us running until today along with the income we earned from the commissions. We are close to breaking even and making a profit which we will achieve in 2021.
I would like to mention that we have received funds from awards such as the Forbes Digital Startup Accelerator programme. These funds are invaluable.
Q. A lot of first-time tech platform users are characterized by scepticism. How do you plan to overcome this hurdle to penetrate the market further?
Going forward, we are working hard to remove platform scepticism. What we have done so far is to acknowledge the challenge and move swiftly to tackle it by guaranteeing unsatisfied first-time users of our platform a refund. We believe that retention is easy once users overcome their initial scepticism. The good news though is we are getting referrals here and there from businesses that have used our platforms. This shows that we are on the right path. And currently, we are serving South Africa, Ghana, Sierra Leone, Kenya US, UK, Canada, and New Zealand to mention a few. We shall be launching the mobile app version of our platform by Q1 2021. This would help give our customers a better experience which would translate into further revenue.